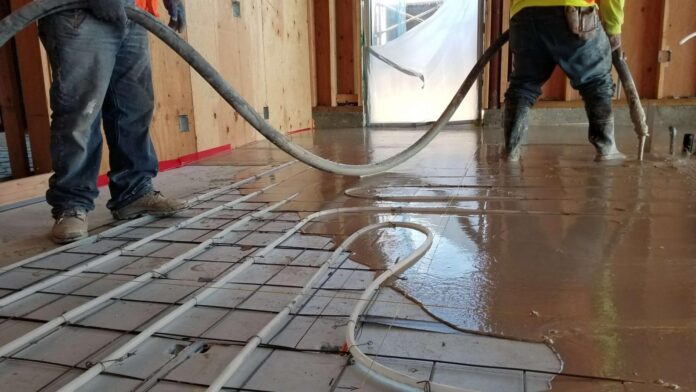 Gypcrete is a type of gypsum underlayment used to create a smooth, level surface for flooring installations. Selecting the appropriate flooring material to install over this underlayment can enhance your flooring's longevity and performance.
Here are some suitable options for flooring over gypcrete:
Tile
Tiles are popular for their durability, versatility, and beautiful finishes. They come in various colors, shapes, and sizes, allowing you to create a custom look that complements the overall style of your space. Tiles are also highly resilient and can withstand heavy foot traffic while being resistant to moisture and stains.
When installing tiles over gypcrete, make sure the surface is clean, dry, and free from debris or loose material. This can help achieve maximum adhesion of the tiles to the subfloor, enhancing longevity. Tiles are a great choice if you want to install long-lasting, low-maintenance, and stylish flooring.
Bamboo
Bamboo flooring is highly durable and eco-friendly and boasts an appealing aesthetic that can enhance any interior. It is available in various finishes and patterns, including vertical, horizontal, and strand-woven. This flooring also offers exceptional resistance to moisture, stains, and scratches. These properties make it an excellent choice for homes with high levels of foot traffic.
When considering bamboo flooring for installation, consult a professional installer for its compatibility. They'll evaluate the type of gypcrete, subfloor, and bamboo flooring quality for a successful installation.
Installing bamboo floors also requires careful preparation and the use of specialized products. A suitable adhesive should be chosen to enhance proper bonding. Proper preparation and installation techniques allow bamboo flooring to be installed safely and beautifully over gypcrete.
Hardwood
Hardwood flooring is a popular choice that many homeowners love for its durability and timeless appeal. It's environmentally friendly, non-toxic, and hypoallergenic, making it an ideal flooring option for sensitive groups. Hardwood flooring also comes in a wide range of colors and styles, allowing you to customize your space to your liking. As this flooring ages, it gets even more beautiful, making it a great long-term investment that adds value to your property.
When installing hardwood flooring over gypcrete, specific steps are necessary to secure a successful and lasting result. These steps may include using a vapor barrier, laying down a self-leveling underlayment, and proper acclimation of the flooring.
Proper preparation can protect your hardwood flooring from warping, buckling, or separating from the subfloor. You can apply a sealer or primer to the gypcrete to improve adhesion and prevent moisture from damaging your flooring. Following these precautions can help you to securely install your hardwood floor, achieving a stunning and long-lasting flooring solution.
Laminate
Laminate floors are a budget-friendly alternative to hardwood and bamboo floors. They're made from multiple layers of synthetic material bonded under high pressure. These layers typically include a backing layer, a fiberboard core, a decorative layer, and a wear layer.
Laminate flooring provides an attractive finish while adding insulation and soundproofing benefits. It's durable, easy to maintain, and highly resistant to scratches.
Read Also: The Benefits of Choosing a Local Roofing Company
Before installing your laminate flooring, level the gypcrete. Any unevenness can make the flooring buckle or become unstable. Make sure the subfloor is properly cured and completely dry. Moisture can damage the flooring and compromise its integrity.
Install Appropriate Flooring Over Gypcrete
Installing the right flooring over gypcrete can help create a smooth and durable surface that complements the design of your space. While there are many flooring options, each one offers unique benefits in terms of the ability to cope with high traffic, sustainability, and aesthetics. Consider your needs, budget, and style to select the most suitable flooring. Work with a professional when installing your flooring for quality results. They possess the necessary skills, knowledge, and experience to enhance proper installation and make sure your new floor lasts longer.